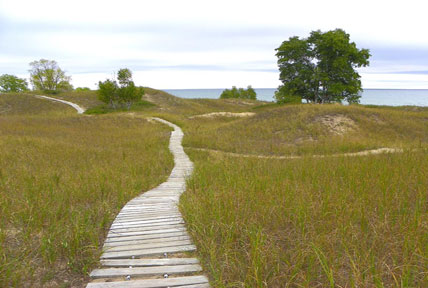 The Black River Marsh Boardwalk is on the west side of the campground just off the main campground road. The 1/4-mile boardwalk offers a unique opportunity to walk out over the marsh, past the nesting ponds, west to the Black River. Along the way, there are three lookout/resting platforms with seats. This walk is accessible to people with disabilities. Dogs are allowed to accompany their owners.
The Dunes Cordwalk is just north and south of the nature center in the state natural area. Hikers walk on a 2 1/2 mile "cordwalk" (boards and rope) through the dunes with three lookout points and benches overlooking Lake Michigan and a rare interdunal marsh.
The Black River Trail is open to bikers as well, and is in the northwest section of the park just off County Hwy. V. The 2.5-mile trail winds through open prairie, mixed woodlands and a red pine plantation.