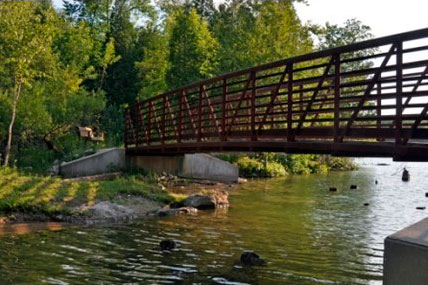 Harrington Beach State Park has seven miles of hiking trails and one mile of Lake Michigan shoreline to explore. Walking the beach along Lake Michigan, hikers can see the remains of a 700-foot pier that was used in the early 1900s for shipping limestone quarried and processed at the park. The old pier is on the point which is the dividing point between the north and south beaches. Biking is allowed on the shuttle bus route from the Pucket's Pond area to the Answay Welcome Center.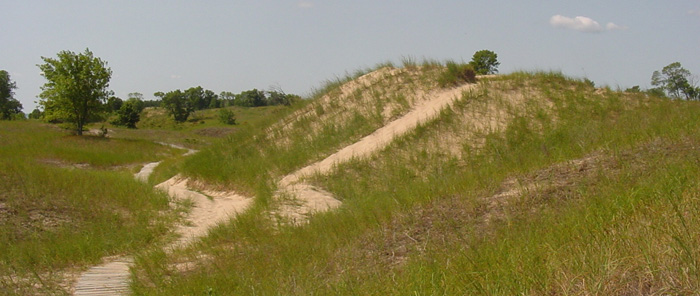 Nature Trails: There are two self-guided nature trails in the park. The Creeping Juniper Nature Trail just south of the nature center has self-guiding nature signs and winds through beautiful sand dune areas of the park.
The Woodland Dunes Nature Trail runs through a heavily wooded section of the park south of the campground. Self-guiding nature signs throughout the trail describe many of the unique trees a visitor experiences within Kohler-Andrae. A shorter, level, limestone trail, which makes up the first portion of the Woodland Dunes Trail, is available for the mobility impaired visitors of the park.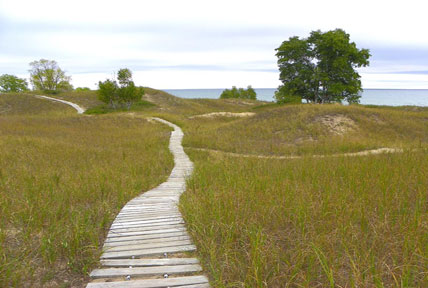 The Black River Marsh Boardwalk is on the west side of the campground just off the main campground road. The 1/4-mile boardwalk offers a unique opportunity to walk out over the marsh, past the nesting ponds, west to the Black River. Along the way, there are three lookout/resting platforms with seats. This walk is accessible to people with disabilities. Dogs are allowed to accompany their owners.
The Dunes Cordwalk is just north and south of the nature center in the state natural area. Hikers walk on a 2 1/2 mile "cordwalk" (boards and rope) through the dunes with three lookout points and benches overlooking Lake Michigan and a rare interdunal marsh.
The Black River Trail is open to bikers as well, and is in the northwest section of the park just off County Hwy. V. The 2.5-mile trail winds through open prairie, mixed woodlands and a red pine plantation.